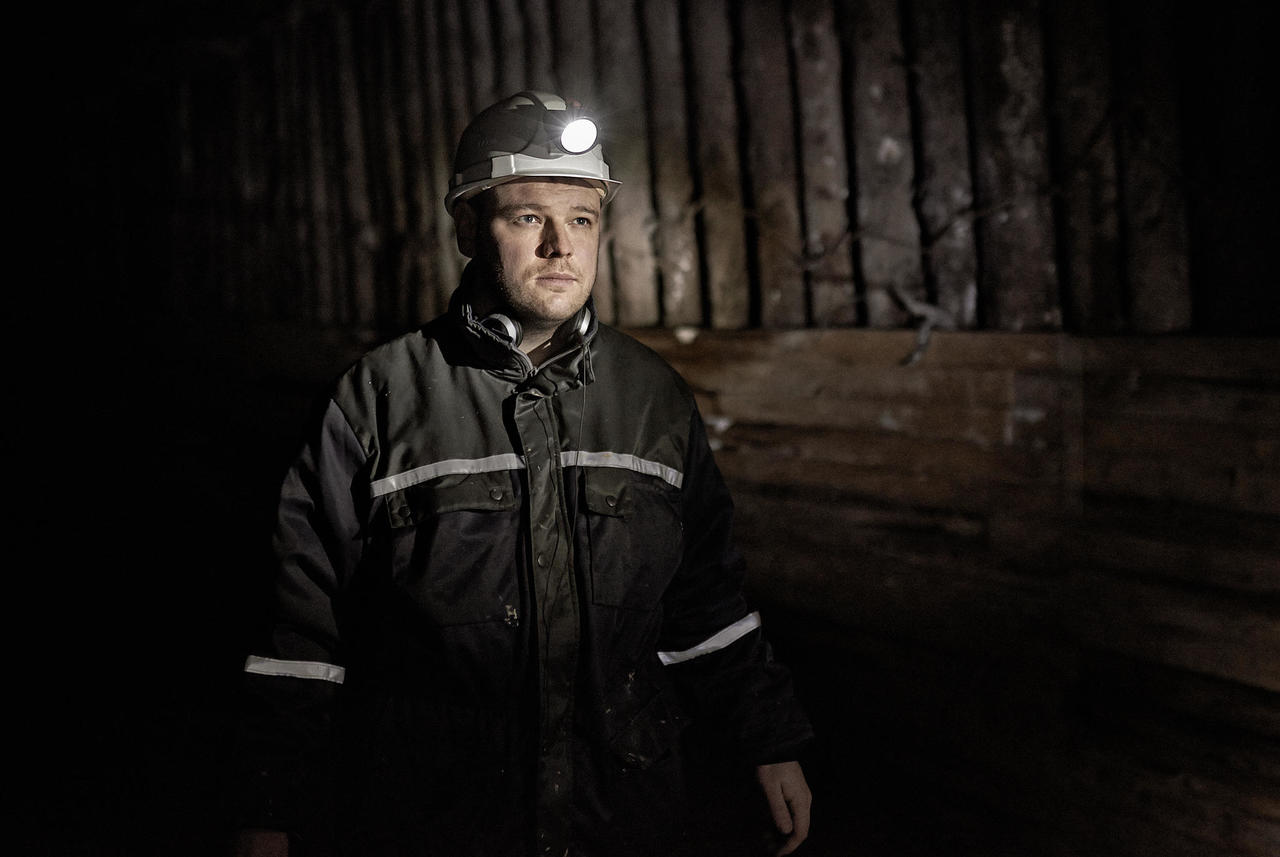 At this exhibition, visitors will be able to see 16 large-format prints of miners. The photographer is fascinated by this profession that has remained unchanged for centuries.
The history of the Estonian oil shale industry began 103 years ago. An integral and essential part of this history are the men who retrieve the oil shale from underground, men who have one of the most dangerous jobs in the world. The photographer Kaupo Kikkas explains, "When I went to an underground mine for the first time, I immediately felt that I had to create something here someday. The feeling when you're standing in a dark passageway, with immeasurable tonnes of soil, the crust of the planet, above your head, is emotionally comparable to diving or flying. But these underground passageways on their own are nothing without the men who carve them. So, it was clear to me that I had to create a project about these men, and perhaps through them, a small fragment of this special emotion will be conveyed to the audience. I'm fascinated by professions which have remained essentially unchanged for centuries. Jobs that are "real", which require strength, and which have a tangible result."
According to Margus Kottise, Member of the Board of Viru Keemia Grupp AS (a company who supported the photography exhibition) and Head of the Ojamaa Mine, the dignified and historical profession of mining has sparked interest among people throughout time, as the underground world remains unknown and mysterious for very many, and not everyone has the opportunity to experience it. Margus Kottise added, "Kaupo Kikkas' photographs help people experience the essence and charm of the miners' world. Considering all the hard work that our men do underground, they have definitely earned the little bit of recognition from this exhibition."
Estonia is currently one of the largest oil shale mining countries in the world, and the only one with a national electric power system based on oil shale. At the same time, oil shale mining and shale oil production is a controversial topic in society. Therefore, the exhibition will engage in a dialogue with a pop-up exhibition open at Maarjamäe Palace, curated by students from Tallinn University about phosphorite mining through the eyes of the people of Ida-Virumaa, "Quo vadis, Virumaa? Phosphorite – friend or foe?", which voices opinions for and against mining.
You can find out more about Kikkas' works at kaupokikkas.com.
The exhibited works have been face-mounted, taking into consideration the gallery's stricter requirements. The works were prepared for the exhibition by Artproof.
This exhibition will remain open at Maarjamäe Palace until 25 January 2020.
With thanks to Viru Keemia Grupp AS